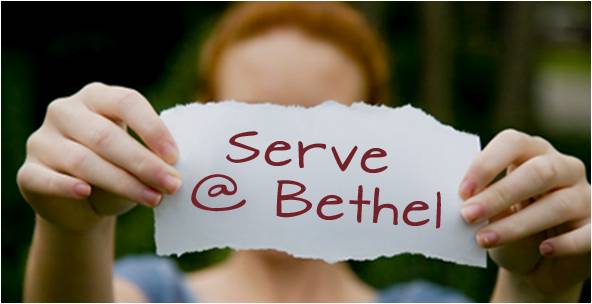 .At Bethel, guests and members alike find warmth and acceptance, inspiration, encouragement and friendships that will last longer than a lifetime.
We encourage you to take the next step

Discover your gifts. Fulfill your purpose. Impact your world.

How do I find my gifts?
Most people never find their purpose and calling in life, because they wait to serve until they see an area they feel called to for a lifetime. Most of the time, however, we don't discover our true calling until after we've begun serving where we see a need and an opportunity to impact others right where we are!

So…Where do I start?
Simple! Ask yourself three questions:

1) What do I love doing today?
2) What am I good at today?
3) Where can I use this passion and talent today?

One, two, or perhaps all three of these answers will help you begin to identify where God wants you to start. We'd love for Bethel to be the place for you to get started.

We've focused our serving opportunities into eight ministry areas, each utilizing a unique set of gifts and interests. We invite you to take a look and compare your interests with some of the opportunities listed below that may match your talents/interests.
There are many support areas of ministry for you to become involved in at Bethel...
Immediate Opportunities for Service:
Children's Department Volunteers
Volunteers needed on Sunday mornings & Wednesday evenings
Other areas of ministry where volunteers are utilized:
Pastoral Care- Admin
I have practical skills to help the church operate efficiently and effectively.
Interests: Clerical, Electrical, Organizing, Labor, Computer, Phone, Cleaning, Graphic Design
Ministries: Campus Care, Clerical, Marketing
Pastoral Care- Disciple
I'm interested in providing emotional and spiritual support to those in need.
Interests: Prayer, Teaching, Encouragement
Ministries: Altar Care, Connections
Pastoral Care- Warmth
I have interest in helping people enjoy a warm & comfortable experience from their church.
Interests: Cooking, People Skills, Telephone
Ministries: Hospitality, Sunday Cafe, Kitchen Ministry, Outside/In, Ushers
Worship
I have artistic and technical skills and passion to touch & transform lives.
Interests: Sound, Video, Lighting, Technical, Music, The Arts, Books
Ministries: Sound, Media, Video, Worship
Outreach
I'm interested in helping people in our community find a personal relationship with Christ.
Interests: Meeting People, Helping Needy, Talking, Evangelism,
Ministries:Taking To Streets, Community, Bus Ministry (soon to come)
Student
I'm interested in helping young people and young adults learn about Jesus and address age appropriate issues.
Interests: Teen Mentoring, The Arts, Extreme Fun
Ministries: Chaperone, Event Coordinator, Fusion Helpers
Children
I'm Interested in helping children come to know Jesus in a real and personal way.
Interests: Children, Teaching, Crafts, Physical Activity
Ministries: Kids Zone, Nursery, Wed Evening- Roayal Rangers & Girls Club
Family Entertainment
I'm Interested helping people grow in their relationship with Christ.
Interests: Party Planning, Outreach, Decorating, Cooking, Socializing
Ministries: Family Events, Sports
Ways to volunteer...
Visual Technician

Ushers

Greeters

Volunteer office help

Grounds and Maintenance

Cleaning Church

Altar Workers

Tape and CD ministry

Radio Ministry

Children's Ministry

Royal Rangers and Girls Club

Nursery Ministry

Teen Ministry

College Career

Social Department

TV Ministry

Many others......