I started this Blog to minister to Women. I hope you will enjoy and let me know what I can do to better minister to you.
We need each other!

I would like to share my story with you...

Well it is Saturday morning and I have been working on Bethel's Website and flyers for the Upcoming Events. I have never felt so privileged to be doing something in my whole life.

I have been listening to Gospel music on TV. with Vestal Goodman. The joy that I feel this morning is awesome. I have always loved listening to her sing. Tears always run down my face and I feel like that young mother that started going to church over 35 years ago.TR and I weren't born again and we lived a totally different life than we do today. Back then yes we didn't know Jesus and didn't go to church. When I think about living like we did it makes me want to run and tell everybody about Jesus. Chad was a little baby and Kevin was about 3 years old. And they were all boy. I have to tell you how we finally made it to church. My niece Donna would call and invite us to go to church with her and we would say maybe someday. But she was very persistent and one Saturday night we thought well it would be nice to let them go and have the time to do something we want to do without them. They went and loved going and wanted TR and me to go the next Sunday with them. (We weren't expecting that)

Well the next week they had a special speaker and we went and at the end of the service TR went up to ask Jesus into his heart. I was holding Chad and didn't move, the evangelist said for someone to take that baby and for me to come up to the altar and join my husband and receive Jesus. I felt like running the other direction, yes out the door and never look back. But I could feel the drawing of the Holy Spirit and went up with tears so big I thought they were making puddles on the floor.

I felt such a peace and I felt like I was home and loved it. That was such a life changing night for our little family. I am so glad I would not want to go back to life without Jesus and our loving Church family.

Now our boys have grown up and have their own family. We are so happy that they are raising their kids in church and living for God. What a Blessing to watch them grow up and hear them talk about the Lord and living the Christian life!!! Nothing could be better than that! I always want to talk about our kids and their family, guess that is a Mom thing, I am just so proud of them!

Today I feel so thankful!!! I had a stroke last October and could not read or talk very well. I was like I wanted to do so many things, but couldn't. think how to do them. I remember it was so frustrating and to be honest I was scared I would be like that forever. I couldn't read at first and when I came home and got on the computer, I couldn't remember anything about it. I remember just like it was this morning crying and praying and asking my Lord to heal me so I could do the 2 things I love to do. I could not imagine not using my computer or being able to read my books or my Bible.

Well I spent a lot of time in the bed and TR was the most wonderful husband!!! God Bless him! Kevin and Chad came and helped us and spent time with us.

I went for over 2 months like that and one day I got up and ate my breakfast and I remember as if it was this morning. I went and opened my Bible and I could read and understand what I was reading, the words seemed like my friends. And the next morning I remember thinking well I am going to go on my computer and just see what all I can do. Well that day it seemed as if I had never been on a computer I couldn't even remember how to turn it on. TR came over and turned it on and stayed with me and showed me some basic things. I wanted to work on our church website but it took me a couple of months before I could understand how to do it. It has taken me since last October to complete this Website and change everything that needed to be changed. But I am so thankful that today I finished everything I was wanting to change and I feel like God is Healing me in every way and I am so tankful!

Our God is so good and He is faithful!

I would like to thank our kids, Kevin, Nikki and Ethan

Chad, Jennifer, Aspen and Canyon

All of the people at Bethel and all of our friends for standing with us and praying and believing God for my Healing and for believing God for all of our needs to be met.
Thank you so much!


I want to thank a very special friend, Becky has been so kind and has helped me so much with our Website and helping me feel like I can do it!
Thanks, Becky


Let me know if I can do anything for you or if you want me to pray for you.
I am ready to see God move in mighty ways in your life.

I want to thank everybody that has been so good to us! I want to thank everybody that brought us meals and everybody that came over and stayed with me so TR could go do the things he needed to do. And most of all thank you for praying for me and my family!!! God Bless all of you!

I believe TR and I have grown during all of this and we are looking forward to ministering to the people at Bethel and our friends around the world!
Calling All Moms!

I am so excited! As I read my Bible, Pray and clean my house. I love my house clean and all ready. I have an excitement about all of the new things that will be opened up for us. As usual I have an excitement about the Word of God. I have found out the more I think I know the more I realize the more I don't know. Every time I study the Word I find things that amaze me and I wonder where it was the last time I read my Bible. Pastor and I live the Word of God we don't just preach about it. It is our life!
This year I want to grow and develop in things I have interest in learning. My desire is to be the very best Linda that I can be for my wonderful Lord! I feel sorry for God's children when all they want is to remain the same. There is so much to learn and be involved in and in the process we can be a good witness and share our love for Jesus with others.
Calling All Moms!

Today I am watching the news about Isreal. There seems to be something different when I see them firing shots and hear what is going on in Isreal. My heart is heavy, Isreal holds a very special place in my heart. As a Christian I am praying that our President will support Isreal. Please join with me and lets pray. . God Bless!
Calling All Moms!

Until the day we go home to be with the Lord, no matter how old my kids get my job of praying, standing in the gap, and believing God for them continues. And the most wonderful thing is that our prayers will still be working for them.God is so good isn't it wonderful to be a Godly Mom. I would like to hear from some Moms. It would be wonderful
to be able to pray and agree with you.
***
Below is The Father's Love Letters let it minister to you!
I grew up in a home without a Dad. There was always something missing in my heart and life I spent a lot of time crying and wanting to have my Dad home. I always wanted a family like my friends had. But it wasn't until I was married and had 2 children of my own that I found my Heavenly Father. No matter where I am or what is going on in my life I now have my very own Father. The words below about my Heavenly Father mean so much to me. He is my very own heavenly Father and I can have Him with me all the time. Oh as a child I so would have loved to have known that he was there. That is why I have such a desire to minister to women and introduce them to him. I am now never alone crying in a room feeling like I had no one. He is always with me and I can talk to Him about anything and He hears me and loves me so much. I know that there are many women that need to have a relationship with Him.
I pray that as you read these scriptures you will have the revelation of your Heavenly Father.
Please feel free to call or email me, I would love to pray for you.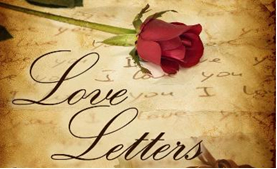 You yourselves are our letter
written on our hearts...
2 Cor. 3:2


My Child,
You may not know me,
but I know everything about you.
Psalm 139:1
I know when you sit down and when you rise up.
Psalm 139:2
I am familiar with all your ways.
Psalm 139:3
Even the very hairs on your head are numbered.
Matthew 10:29-31
For you were made in my image.
Genesis 1:27
In me you live and move and have your being.
Acts 17:28
For you are my offspring.
Acts 17:28
I knew you even before you were conceived.
Jeremiah 1:4-5
I chose you when I planned creation.
Ephesians 1:11-12
You were not a mistake,
for all your days are written in my book.
Psalm 139:15-16
I determined the exact time of your birth
and where you would live.
Acts 17:26
You are fearfully and wonderfully made.
Psalm 139:14
I knit you together in your mother's womb.
Psalm 139:13
And brought you forth on the day you were born.
Psalm 71:6
I have been misrepresented
by those who don't know me.
John 8:41-44
I am not distant and angry,
but am the complete expression of love.
1 John 4:16
And it is my desire to lavish my love on you.
1 John 3:1
Simply because you are my child
and I am your Father.
1 John 3:1
I offer you more than your earthly father ever could.
Matthew 7:11
For I am the perfect father.
Matthew 5:48
Every good gift that you receive comes from my hand.
James 1:17
For I am your provider and I meet all your needs.
Matthew 6:31-33
My plan for your future has always been filled with hope.
Jeremiah 29:11
Because I love you with an everlasting love.
Jeremiah 31:3
My thoughts toward you are countless
as the sand on the seashore.
Psalms 139:17-18
And I rejoice over you with singing.
Zephaniah 3:17
I will never stop doing good to you.
Jeremiah 32:40
For you are my treasured possession.
Exodus 19:5
I desire to establish you
with all my heart and all my soul.
Jeremiah 32:41
And I want to show you great and marvelous things.
Jeremiah 33:3
If you seek me with all your heart,
you will find me.
Deuteronomy 4:29
Delight in me and I will give you
the desires of your heart.
Psalm 37:4
For it is I who gave you those desires.
Philippians 2:13
I am able to do more for you
than you could possibly imagine.
Ephesians 3:20
For I am your greatest encourager.
2 Thessalonians 2:16-17
I am also the Father who comforts you
in all your troubles.
2 Corinthians 1:3-4
When you are brokenhearted,
I am close to you.
Psalm 34:18
As a shepherd carries a lamb,
I have carried you close to my heart.
Isaiah 40:11
One day I will wipe away
every tear from your eyes.
Revelation 21:3-4
And I'll take away all the pain
you have suffered on this earth.
Revelation 21:3-4
I am your Father, and I love you
even as I love my son, Jesus.
John 17:23
For in Jesus, my love for you is revealed.
John 17:26
He is the exact representation of my being.
Hebrews 1:3
He came to demonstrate that I am for you,
not against you.
Romans 8:31
And to tell you that I am not counting your sins.
2 Corinthians 5:18-19
Jesus died so that you and I could be reconciled.
2 Corinthians 5:18-19
His death was the ultimate expression
of my love for you.
1 John 4:10
I gave up everything I loved
that I might gain your love.
Romans 8:31-32
If you receive the gift of my son Jesus,
you receive me.
1 John 2:23
And nothing will ever separate you
from my love again.
Romans 8:38-39
Come home and I'll throw the biggest party
heaven has ever seen.
Luke 15:7
I have always been Father,
and will always be Father.
Ephesians 3:14-15
My question is…
Will you be my child?
John 1:12-13
I am waiting for you.
Luke 15:11-32
Love,
Your Dad Almighty God
This is the Father you have been looking for.

Father Heart Communications
P.O. Box 7
St. Catharines, Ontario
Canada L2R 6R4
Please Email me and let me know if my
Blog is ministering to you...
Thanks,
Linda
lindajking@charter.net