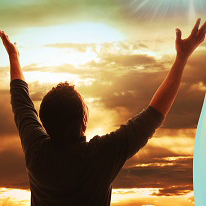 Prayer and Fasting at Bethel on Wednesday's
Isaiah 58:6-9 (NKJV)6 " Is this not the fast that I have chosen:
To loose the bonds of wickedness,
To undo the heavy burdens,
To let the oppressed go free,
And that you break every yoke?
Then your light shall break forth like the morning,
Your healing shall spring forth speedily,
And your righteousness shall go before you;
The glory of the LORD shall be your rear guard.
9 Then you shall call, and the LORD will answer;
You shall cry, and He will say, 'Here I am.'
This is a challenge to you. There is no doubt that you have needs, problems that need to be solved, answers that you need, etc, but Isaiah 58:6 says this is the fast that God has chosen! If we're attempting to petition God on our behalf to gain answers, we'll have more success approaching things the way He desires.
Now look at the passage and rethink the challenge.
God's choice for a proper fasting approach deals with one thing: your approach to others. It's not even what all you pray when you fast, but that your prayers and your actions align. God's concern is your attitude and actions towards others, praying for the salvation; their burdens, their needs, their oppressions; taking action against their brokenness, their humiliation, their need remove condemnation.
Now watch. Go back to you'll get YOUR breakthrough, your healing, your favor, your protection; your answers: you'll receive your guidance, your strength and your needs met! If you look at the verse mentioned above in Matthew, when the disciples were questioning Christ about breakthrough and He answered with "prayer and fasting", it wasn't for their breakthrough, it was for someone else! A sick boy.
The Bible teaches us that God knows every need we have without having to even speak it. If you have an understanding of that, then you realize that God is on standby to bless you, to answer you, but the key to that release in your own life, is that you begin to operate in care and concern for others. If we can forget about our own needs, when approaching God with prayer and fasting, and begin to turn our attitude and service towards others.
God will remember us and restore us to a greater realm than even before.
Join us at Bethel on Wednesday's Fast...